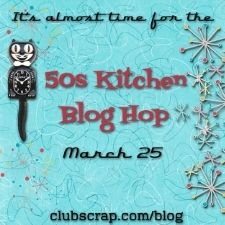 Welcome to my spot on the Club Scrap Blog Hop!
This month my daughter and I have been spending some time on our kitchen, baking Madelines and cookies and mini cakes. These cheerful little treats to surprise our friends and neighbors have inspired my project this month! 
Here's a little pop-up box card that looks simple when it comes out of the envelope, but opens up into a  cheerful splash of treats for the eyes. The bright colors and spunky images of the 50s Kitchen kit are just perfect for this card.
 Here is the outside of the card:
When the card is opened up, 
There's a lot of stuff in there!
Here's a closer view of the inside with the layers:
 The supplies used include:
Club Scrap 50s Kitchen Collection Unmounted Rubber: kitchen collage
Club Scrap 50s Kitchen Art Nouveau Unmounted Rubber: cherries and mixing bowls
Club Scrap 50s Kitchen Unmounted Borders and Backgrounds: cupcake, rolling pin, and shaker
Club Scrap 50s Kitchen Deluxe Kit: 12 x 12 plain papers in red, black, and white
Club Scrap 50s Kitchen Embellishment Pack: black and white ribbon, and cutaparts
Ranger Glossy Accents
Ranger Red Embossing Powder
Ranger Dye Inks: Classic Cherry, Caribbean Coast, Black Tie, Lily Pad, Electric Lime, Java Bean, and Lemon Twist.
Ranger Ice Stickles: Arctic Ice
I hope you've enjoyed this cheery little card, and the Club Scrap Blog Hop!
Your next blog to visit is Wendy's Life Paper Soul, and you can return to the beginning of the hop at Club Scrap to make sure to see all of the wonderful projects posted today.